What are the criteria used for this ranking of the Best Dating Sites Canada?
This ranking of the Best Dating Sites Canada offers relevant information about the most popular matchmakers in Canada in order to help you decide what dating service suits your romantic needs.
This comparison site is the result of a series of tests our team of experts applied to different dating websites.
We have tried several dating sites anonymously to check if they could apply to our ranking criteria.
Our criteria consists on the following elements: free registration process, profiles' categories and search and communication tools.
We have also analyzed the Premium subscription from different dating sites, their safety and security, their customer service and the percentage of users (including the ratio men/women).
We have paid extra attention to the usability of every website. The originality, efficiency and all the different features used to search for, break the ice and interact with local singles.
We have gathered all these data into four different categories the quality of the profiles, the efficiency of the website, customer service and main features.
We evaluate all these elements in order to assign a grade to each of the dating sites of our ranking.
We have left out from our ranking those matchmaking websites with very low grade because we only wanted to create a selective ranking, one that focuses on best dating sites on the market.
Our ranking is constantly being updated as we continually are checking the quality of the platforms.
Why a ranking of the Best Dating Sites can be useful for your dating life?
Finding the right community of singles takes time. There are hundreds of dating sites on the Internet, so, we have done the job for you by selecting the best ones out there!
We have tried the services of the most popular matchmakers in Canada. After comparing them one another, we have created a ranking considering key elements such as subscription prices, features or pros & cons.
We also provide reviews of each dating site. You can find more details about how to use every service, the type of singles you can find, how secure it is to use, information about the best features and about what it is worth it, and what elements can be changed.
The goal of this ranking is not to "sell" you a specific dating site, basically because every single is different and looks for a different type of relationship.
Our objective is to save you time and money by giving you the key information about the Best Dating Sites in Canada, so you can easily decide what platform is the right one for you!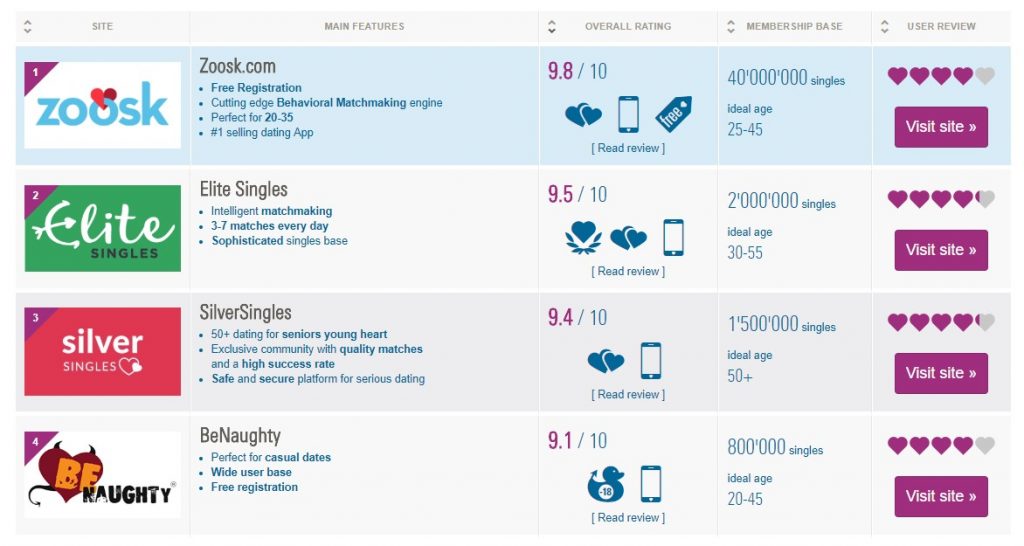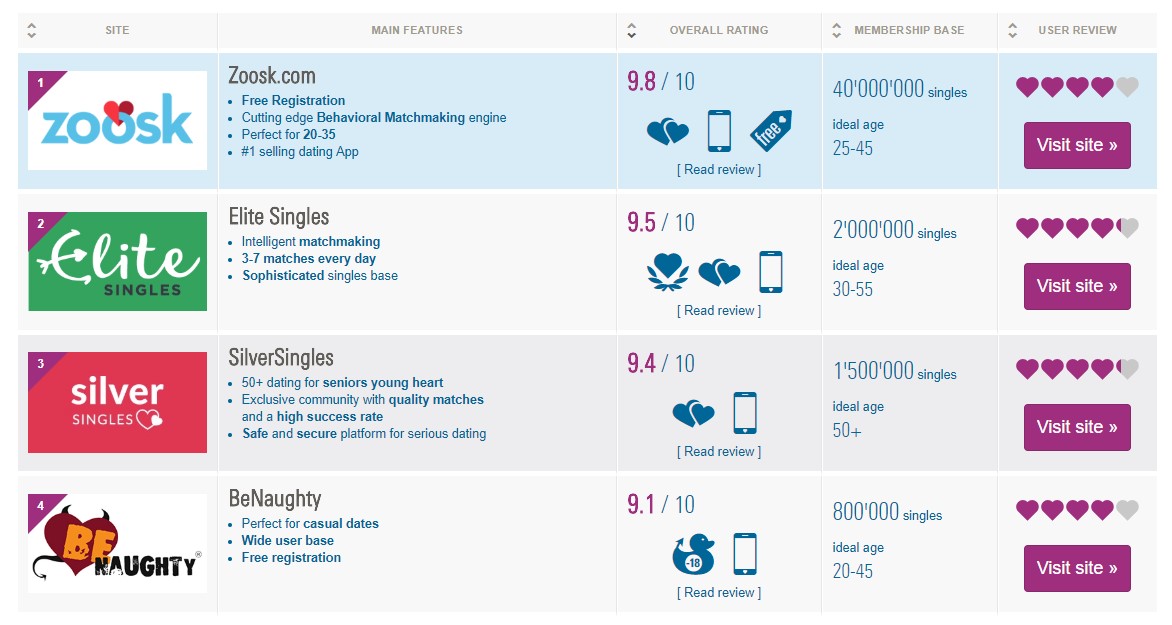 How to use a ranking of the Best Dating Sites?
Before having a look at the dating sites we rank, we recommend you to decide about what type of relationship you are looking for.
We have grouped the dating sites reviewed into categories depending on the type of romantic adventure the user pursues. Please go to the tab "All the Sites" to find them all.
If you are looking for a long-term relationship, the best would be to check out the options we propose in the Serious Dating Sites' list.
Single over 50 seeking a new companion? We suggest having a look at the Senior Dating section.
Do you think that affinity is key in a relationship? In our ranking of the Best Matchmaking Sites we propose a list of matchmakers that connect users considering personality types and how compatible they are.
From there, we suggest you checking our comparative table to have an overview of every dating service.
Click on "Read review" to get detailed information about every single dating site.
We give specific details about the pros & cons of all the portals, so expect to read real opinions on our reviews.
To join one of these matchmakers for free, simply click on "Visit site". You online dating experience starts there!
Read more
Read less