Third date: Romantic Dinner at Home
Last Update : March 15, 2019 by Thaïs
One of the most crucial stages in a relationship is when you invite your date to your place for the first time. There is a popular theory that suggests that third dates should be used to get intimate with your new lover. The idea is to prepare a romantic dinner at home, put some candles and romantic music on and let the magic flow. Let's start the seduction game! Love or disappointment can happen during date number 3, so you better be ready to make sure it's the first option. In the new chapter of our Guide to an Exclusive Relationship in 5 Dates, we guide you step-by-step to plan the perfect third date!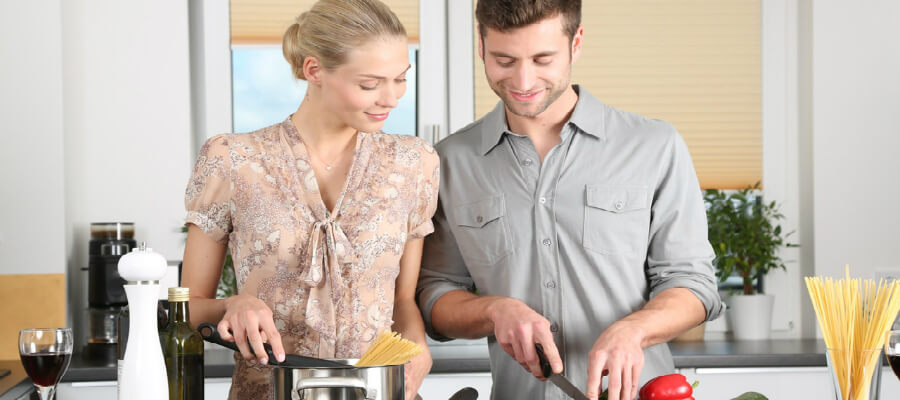 Third Date Planning Checklist!
#Step 1: Plan a romantic menu!
Love and food have always made a great pair! There are many ways to seduce someone you like when you are playing at home. Aphrodisiac food is one of the main elements of seduction.
You don't need to be a master chef to design an inspiring menu to spark romance during your third date. All you need is to select the right ingredients.
There's plenty of options to choose from. You can start with some light and tasty appetizers like shrimp crostinis or canapés with crab and caviar, then chose a seductive main course like salmon with mango salsa or thyme seared scallops with coconut, then go for a tempting dessert like carrot cake or the classic strawberries with cream and chocolate.
Decide beforehand what your menu will be, so you have enough time to do the shopping.
#Step 2: Set the ambience
This is the first time -hopefully the first one of many visits- that your date is going to see your place. So, keep in mind that there is no room for mistakes. Everything should be perfect. You should take care of every single detail. After all, you don't want to give the wrong impression.
Get some flowers, put some candles and clean your place. The idea is to make your date feel like home.
Music is as important as the meal you choose. There are some beats that get you in the mood instantly.
The ideal is to play some soft jazz music in the background to set the ambience. Don't play it too loud, otherwise you will be distracted from the conversation.
#Step 3: Dress to kill!
Tonight might be the big night, so make sure you wear your best outfit, and yes, this also includes your lucky underwear!
One of the greatest things about cooking a romantic dinner at home on the third date is that you are open to do whatever you want to make you and your date feel comfy.
Select from your wardrobe something to impress your date, but don't overdress.
There is no need to go for too-fancy outfits. You can go for a casual style with an elegant touch like skinny jeans, a nice blouse or a casual sensual dress and high heels for women and a button-down shirt and fitting jeans for men.
The Kitchen Romance on a Third Date
#Step 4: Cook dinner with your partner
One of the fun things about inviting someone to your place for a romantic dinner on a third date is that you can prepare dinner together.
It is a fantastic way to bond and get closer to your date. You simply need to use ingredients that invite you to become more playful with one another.
There are some must-haves like chocolate, strawberries, oysters, melted cheese or figs that not only are great ingredients to boost your libido, but also are very useful to persuade your date to become naughtier. Who doesn't love sharing finger foods or irresistible creamy dips with their loved ones?
Cooking dinner for the first time should be a unique experience where you two let yourselves go and experiment together with all your senses.
It's the perfect excuse to discover flavours together. Tip: Lure your partner back to you, don't be afraid to get flirty and use your hands to feed the other!
For many couples, cooking together is like foreplay, so don't rush things up. Take your time to enjoy the experience!
Third Date Dinner
#Step 5: Romantic dinner & conversations
The seduction game continues in the living room. Now, it's the time to get to know each other better.
For the first time in three dates, you are presented with a unique opportunity to seduce your date in a quieter space, out of the spotlight!
Being the two of you alone for the first time opens you the door to show your most romantic side.
Make sure the conversation flows and you two share your desires, your expectations about where you want your love story to go and how you feel about the other.
Get flirty, get romantic and joke a little bit to low the pressure. Set the mood for love little by little.
#Step 6: A sweetest touch: Unleash your passion with a tempting dessert!
A good meal always ends with a top-notch dessert! For sure, you've had plenty of opportunities to approach your date during your dinner or while cooking the meal, but this is when your seduction strategy goes to the next level.
It's the time to sweeten the evening, and what's best than a tempting dessert made of melted chocolate accompanied with exotic fruits like berries or cherries and a sexy cocktail to fuel the flame of passion?
#Step 7: Seduction game
As The Killers' vocalist Brandon Flowers sing: "It started out with a kiss, how did it end up like this? It was only a kiss, it was only a kiss."
It's time to make a move and go for that third date kiss that will make your date melt into a puddle.
If you still are hesitant about choosing the perfect moment to give that kiss that can change everything, playing something like Twister to tangle up or two truths and a lie drinking game to challenge the other will for sure do the trick!
If you give a breath-taking kiss, then the rest will follow! The night is young, and you have plenty of time to get carried away by passion.
Enjoy the ride!
The morning after a Third Date
#Step 8: Breakfast in bed!
Your third date doesn't have to end with a night of passion. Lovers can still love in the morning after!
If you want to make your date leave your flat with butterflies in the stomach, there's nothing as romantic as having breakfast in bed.
Get up a bit early, prepare some waffles and crêpes with berries marmalade or baked French toast with butter and strawberry marmalade accompanied by a glass of fresh orange juice and a cup of coffee.
Add a flower and a few sweets in your tray to show you care about the small details.
The goal is to make your partner leave with a good taste in his/her mouth!
Ready to nail your third date?
Learn more about "The First 5 Dates: The Ultimate Guide to an Exclusive Relationship"