First date: Casual drinks
Last Update : March 11, 2019 by Thaïs
A first date can lead to a wonderful love story! But you'd need to know how to play the dating game to achieve that moment where you discover that the person in front of you is the chosen one. Many singles believe that mastering a first encounter is directly related to how confident they are with the person they are dating. Fact is that every single detail counts during a first date, from the place you take your match to the conversation you hold or the outfit you wear. Most people need around five dates to become exclusive with someone. This is why mastering a first date is so important to make a relationship to blossom. After all, date number 1 can mark the moment where you start writing a new chapter in your love life. In this first episode of our Guide to an Exclusive Relationship in 5 dates, we want to give you some ideas on how to plan your first date to make the chemistry flow and increase your chances to initiate a long-term relationship.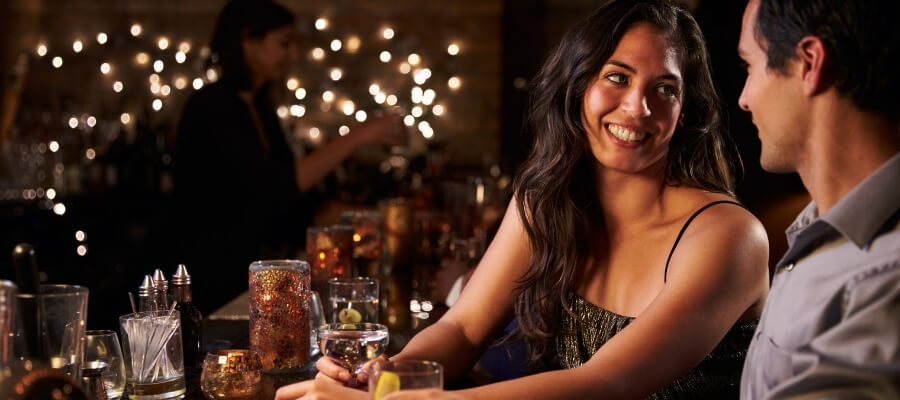 Where to go on a first date?
There are a lot of things to prepare before going out on a first date.
You may have been talking to your date for a while, you already know what things can bring you together, you have chosen your outfit, thought about what the best icebreakers could be… It seems you have everything under control, but then, something as simple as your nerves ruins your first date.
The pressure is huge when you try to impress someone when meeting for the first time. Specially if your goal is to get involved romantically.
Plenty of studies show that being yourself is primordial to seduce your match during a first date.
Therefore, you should consider planning a first date where you go to a place where you feel confident and relaxed.
A first date is a time of discovery and flirtation.
A good idea is to choose a venue where you can chill out, have some drinks, have a laugh and engage on an enriching conversation that reveals a lot about your match.
Keep it easy! Sometimes, the simplest date ideas are the best ones!
Casual drinks: The perfect First Date Plan
Going to the movies, enjoying a romantic dinner in a fancy restaurant, having a picnic in a park, a cooking class, challenging your date to a kart race…
The alternatives are limitless when it comes to planning a first encounter.
There are many first date plans for two to spark romanticism, but there is nothing as effective, fun, cheap and entertaining than grabbing a few drinks in a bar.
If you go to a theater to watch a movie, you won't have the chance to chat and get to know your date.
A romantic dinner is a fantastic option if you already have been in a couple of dates and what you want is to simply enjoy each other's company while having a delightful meal, but it requires following a certain dress etiquette and it isn't precisely affordable.
However, going to a cocktail bar can be a great experience to break the ice, have a friendly chit chat, tasting the finest appetizers and even getting a bit flirty!
It easy to create an emotional connection with someone during a first date if you have less distractions and focus all your efforts on getting to know each other.
In a bar you can loosen up and have countless of opportunities to initiate innocent physical contact.
One of the key ingredients of a long-lasting relationship is being friends with your partner.
Attraction is essential in a first date, but also is sharing the same interest and values, as real friends do.
A first encounter should serve as a excuse to boost romance, but you won't become exclusive with someone who you don't see as a companion (a lover and a friend) in the long run.
There's nothing as fun, relaxing and comforting than going to a bar with a group of friends, grab some drinks and spend the evening, having some laughs, catching up and bringing back old memories.
That scenario can be extrapolated to your dating life as well. Having that familiarity during your first date can really help you to let yourself go and leave anxiety and nerves to one side.
How to choose the perfect bar for your first date?
Go to a bar with dim-light: It's not like you need to hide something from your date, but having a first date in a bar with bright lightning as if you were in a surgeon operation room won't get you in a state of relaxation. The idea is to feel comfortable and choose a place that's nice and inviting. A bar where you have that level of intimacy and romanticism to spark the flame of love, but that isn't too dark to see each other faces. The ideal would be a lounge with an area with comfy sofas and scented candles.
Avoid bars that are too fancy or too seedy: If you go to a venue that is extremely chic and fancy, you would need to spend hours thinking about what outfit to wear that makes you stylish, but not pretentious. You will also spend a lot to taste a couple of cocktails. On the opposite, if you go to a seedy bad, you can be given the wrong impression. Choose middle ground. Your first date should be in a bar that offers a friendly and romantic environment, but without being too pompous.
Go to a bar with soft music: Music can be your perfect ally if your goal is to woo someone. There's something romantic about music. Some sounds can instantly put you in the mood for passion. Therefore, you should take your date to a bar where you can listen to some soft jazzy music that it's not very distracting or loud, so you can have a relaxed chat in the meantime.
All in all, the idea of your first date should be to lose all the tension and focus on what really matters: to get to know each other and make the magic happen! And what's best than going out and have some casual drinks?
This is the first page of your love book, so take your time to enjoy the experience. You still have enough time until date number 5 to make your match fall for you!
Learn more about "The First 5 Dates: The Ultimate Guide to an Exclusive Relationship"