Dating myth or reality? – Cooking dinner at home on the third date
Last Update : June 6, 2018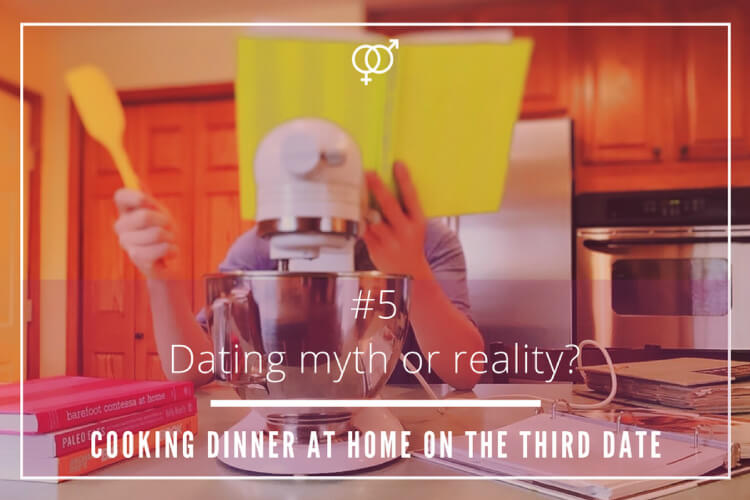 Inviting your date over to your house for a romantic dinner for the first time is a big step.
It is the perfect moment to impress your date with some of your delicious home-made recipes, but, at the same time, you will be also opening the doors to intimacy. Your partner will see your place for the first time, so you better be sure to create a good impression, and make a memorable evening!
You may be ready to receive your date at your place with your arms wide open, but choosing the right moment to do so is highly important. When is the best time to cook dinner at home for your date?
The dating hypothesis: people wait until the third date to cook someone dinner at home
Timing is primordial when you start dating someone new. There is a right moment for a first kiss, a perfect moment for introducing your friends, and relatives, a right moment for the first time you get intimate, and there is an ideal moment for your first dinner at home.
Despite every couple is different, as the professional relationships expert Janis Spindel explains in her book, "How to Date Men: Dating Secrets from America's Top Matchmaker", date number three is the best one to invite your partner over to enjoy a romantic dinner.
Why is it so? Many dating specialists, and regular daters as well, believe that first dates are great for having some drinks, second dates are fantastic for a special dinner at a restaurant, and third ones are the best ones for staying in, enjoy a delicious meal together, and if in the mood, let the magic happen (third-date rule).
Men's perspective
Nowadays, a lot of single men prefer to follow the dating trend, and ask their conquest to share a special dinner at their place with them between the third, and fourth encounter.
As April Beyer, founder, and CEO of the personal matchmaking service Beyer & Company, suggest, it is the best way to show you are interested in that woman, but without looking creepy or desperate.
As it happens with other unwritten dating theories, this may slightly vary, and some may prefer to rush things up, and go for it on the second date, but it all depends on every couple, and how the chemistry has been shown during the previous dates.
Women's perspective
For a single woman, inviting a man, and preparing a romantic dinner at home for the first time, sometimes is a hard decision to make. Many of them, in fact, feel more comfortable going out to for their first encounters.
Some women, even the feel more secure when playing in their own territory, also feel vulnerable when their date go to their place for the first time. So, there are females who prefer guys to take the initiative, and females who are more decisive, and ask their potential partners to spend the night in on the third date as well.
Dating myth or reality?
As it happens with the third-date rule, every couple chooses when it is the perfect time to invite their date over their place to enjoy a romantic dinner, however, as dating experts recommend, and current trends show, a big number of daters prefer to wait until knowing each other a bit more, and see if there is real chemistry by going out on a couple of dates before deciding to share something as intimate as a passionate meal at home. Thus, the "cooking a romantic dinner at your place on the third date" norm is a dating reality!