Date ideas for adventurous singles and couples
Last Update : October 29, 2018 by Thaïs
Adding adventure to your life and your relationships is always very healthy and positive.
Whether you already are in long-term relationship or you have started dating someone new, there is nothing like planning a romantic and adventurous getaway to strengthen emotional ties.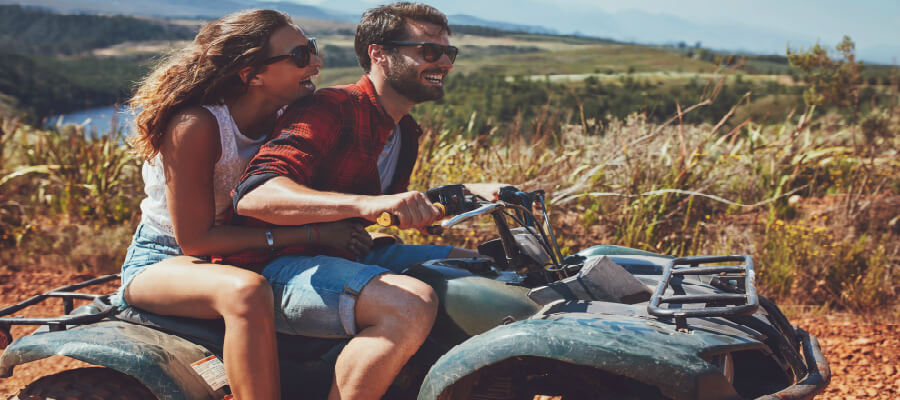 Adventurous dating ideas for couples
It is commonly said that long-term couples lose the magic after spending some time together.
After countless experiences, it seems that you know each other very well and that you cannot bring something new upon the table to surprise your partner.
A great idea to not getting stuck in the rut and keeping the flame alive with your loved one is to plan a trip where you can bring out the daring guy/girl in you and connect at another level.
You can go for activities where you will be able to work as a team and where you will be to get out of your comfort zone and asked to trust your partner to complete them successfully.
Rock climbing or rafting are great choices if you are looking for extreme sports.
If your idea is to get involved in a unique experience to re-connect with your partner and, at the same time, with the nature, then mountain biking, hiking, horse riding or scuba diving.
Add a couple of romantic nights on a cabin on the woods on your list and you will have your partner eating out the palm of your hand!
There are many positive aspects that you can get out of your risk-taking romantic experience.
Undoubtedly the most important one is to create new memories as a couple that will last forever.
It is also making your relationship grow stronger by balancing your relationship roles while achieving some couple goals.
The idea is to spend some quality moments together.
To make it more exciting, you can make your adventurous trips a routine and try different activities every time you plan a getaway.
Dating ideas for daring singles
If you are planning a first date or you have been dating someone for a short-time, trying extreme activities could be a great opportunity to get to know each other deeply and create an emotional connection in a very entertaining and unusual way.
Some scientific studies suggest that there is strong connection between extreme sports and sexual attraction.
Blood-pumping activities like parachuting, bungee jumping, water skiing or sandboarding are perfect to increase your adrenaline levels and your physical reaction is similar to the one you feel when you are sexually attracted to someone.
Any of these activities can be used as an excuse to relieve energy and bring out your wildest side.
They can also lead to your date to believe that sharing his/her life with you can be very thrilling.
The main advantage of selecting an adventurous date for your first encounter is that it can be easier to create an instant connection over an activity that you both enjoy to do.
There will be more chances to create moments of intimacy and complicity.
Engaging on risk-taking activities pushes your emotions to the limit, so it could be a great opportunity to check how your date reacts under pressure and if you are meant to be together.
To guarantee you an unforgettable first date, you can end it up by taking your potential partner to the "moon".
A balloon ride where you can contemplate a breath-taking landscape during the sunset while drinking champagne and toasting for a bright future together can be the perfect scenario for your first kiss.
Your desired love story can easily start here!
If you prefer an extreme activity in the city instead of an adventure in the country side, you can always go for a kart race.
A little bit competition can be like the gasoline to start your "fire". You can venture yourself to tease and get flirtier with your date.
A fantastic option to make sure you work well together as a team is to try an Escape Room where you would need to solve a series of puzzles together to get out of the place within a limited amount of time to win the game.
There are plenty of activities to add some adventure to your dating life. All you need to do is to make sure you choose the ones that really blow your partner/date away!
*Photo by Jacob Lund | ShutterStock.
Learn more about "Romance & Getaways"