Best dishes to rock your first date dinner
Last Update : June 13, 2019 by Thaïs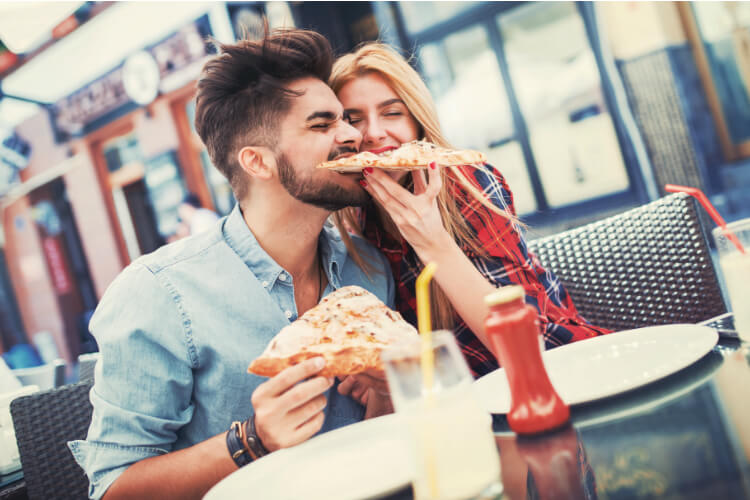 Food and seduction have always gone hand in hand.
People use to say that the way to a man's heart is through his stomach.
In spite, Mexican food or Spanish food has always been a good choice for a first date dinner, it seems that things have changed and now, singles in Canada prefer other types of cuisine.
Avoid exotic and spicy food during your first dates
Exotic ingredients and spicy foods are key to seduction, but not the best option for a first date.
A study published by the dating site Elite Singles where 1,800 singles were asked about their dinner dating habits, revealed that just 2.40% of men and women searching for love online, will choose Mexican food on a first date.
What would be the top meal to eat on a first date? The answer is clear! One in 4 singles will go for Italian food.
It may sound unbelievable, but a simple pasta dish will do the trick!
Spanish food is the second preferred choice among singles from Elite Singles.
Spanish tapas are irresistible, but when it comes to Mediterranean food, Elite Singles' users believe the Italian cuisine wins by a landslide.
On the other side, we find Mexican Cuisine, Chinese, Japanese, BBQ and American.
According to Elite Singles' study, exotic foods aren't as popular as Mediterranean cuisine.
Exotic food is great for seduction. So, better to enjoy an exotic romantic dinner during the following dates.
There is a popular theory that suggests that date number 3 is the one where most daters cook dinner at home and… Well, magic happens!
It's the perfect occasion to invite your date to your place and prepare a romantic dinner by using aphrodisiac ingredients to boost passion.
If you love Japanese tempura, American BBQs or Mexican enchiladas, make sure you leave these options for your third date dinner.
Do you want to succeed on your first date? Invite your partner to this type of restaurant
When going out on a first date, you should also consider what type of restaurant you want to invite your match to have a romantic dinner.
Singles in Canada don't expect luxury on their first date.
They want to feel comfortable and what better way to reduce first-date nerves than going to a restaurant that is cozy and friendly.
Having your first date on a venue that is nice and welcoming really eases tension and in such a way it's easier to communicate with your potential partner.
There's no space for superficialities or banalities.
Similarly, food trucks and fast food restaurants are a no-no on a first date for most singles.
What to do then? Choose a place with a relaxed atmosphere and that offers amazing food! According to Elite Single's survey, the best option is to have your first date dinner at a local restaurant that provides homemade food.
In fact, 60.44% of Elite Single's users prefer a "local gem" type of restaurant on a first date.
Chat with your prospective partner about any dietary requirements you may have or what is your favourite type of cuisine before you meet in person for the first time.
Then, simply search for a friendly restaurant that offers great homemade meals and that have good rates.
The goal on your first date should be to get to know your potential partner, see if there's chemistry and, if interest is mutual, plan more dates and, in time, initiate a long-term relationship.
Don't risk it! If you want to impress your date on your first encounter, follow Elite Single's recommendations and go for an Italian restaurant that offers daily homemade meals including artisan pasta and pizzas like in Annette Food Market or Ardo in Toronto, Nora Gray restaurant in Montreal or Italian Kitchen in Vancouver.
If you love Mediterranean food, but rather prefer to try Spanish food for your first date dinner, then LaVinia restaurant in Toronto, which offers slow-cook paellas, tapas and Basque style codfish, The Soca Kitchen or Taqueria La Bonita in Ottawa or Tzin Wine & Tapas in Edmonton, are great choices.
Dare to try exotic food on your first date dinner? Then, it's time for you and your date to try the amazing tacos at Rebozos or the tasty mutton rolls at Little India in Toronto or savour the best sushi (or at least one of the best ones) in Montreal at Restaurant Saiko.
If you are craving for Indian food, the meals at Restaurant Sandhu in Montreal or enjoy all sorts of flavours at Namaste India restaurant in Edmonton, the Sula Indian Restaurant in Vancouver or at the Moksha Indian Bistro after a visit to the Niagara Falls.
Whatever your choice is, make sure that you go for a nice restaurant with a friendly atmosphere and high-quality homemade food for your first date dinner.
The idea is to have a magnificent culinary experience, but also get to know your prospective partner better!
After all, food is key to seduction. If you go for a good starter and a great main meal, then it'll be easier to get a fantastic dessert: a romantic night with your match!