These superheroes and villains can get you a date on Zoosk [Infographic]
Last Update : April 25, 2019 by Thaïs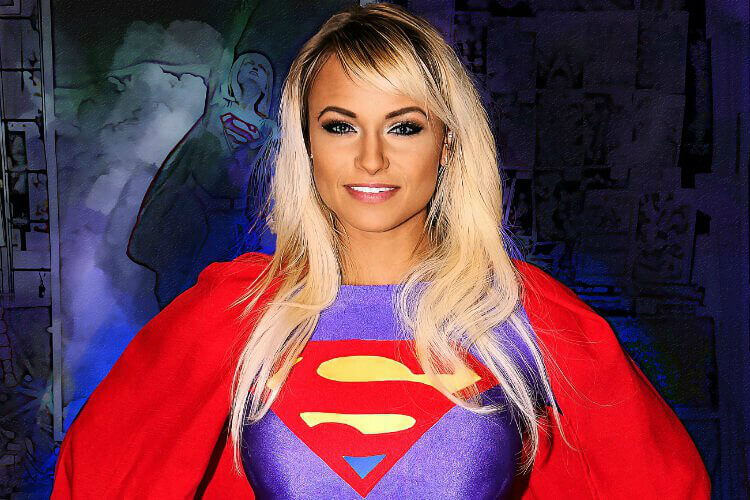 "Our love story began at a Coldplay concert". "Our interest in Game of Thrones brought us together". "We started talking in the queue for Avengers: Endgame".
Sharing interests is crucial when flirting with other singles.
Plenty of online dating sites connect people considering their hobbies and passions.
Creating a profile description where you explain in detail what your main hobbies are can increase your opportunities of landing a date.
People who love sci-fi and superhero movies are the luckiest ones! They can really find love very fast in online dating sites like Zoosk Canada.
How can you get a date in Zoosk Canada thanks to Harry Potter, Star Wars and Marvel characters?
A few days ago, hundreds of fans of the galactic franchise Star Wars gathered at McCormick Place, Chicago to attend to the last Star Wars Celebration.
The same happened when "Fantastic Beasts: The Crimes of Grindelwald" was released last year.
Many Potterheads from around the globe attended to several events to celebrate their love for the universe created by the best-seller author, J.K.Rowling.
These events are perfect to meet new people and even find love!
If your ultimate goal is to meet someone special while enjoying your favourite activities, then keep reading.
You may find your soulmate in a very unexpected way!
Did you know that choosing a particular Hogwarts House can boost your chances of finding your perfect match in an online dating site like Zoosk Canada?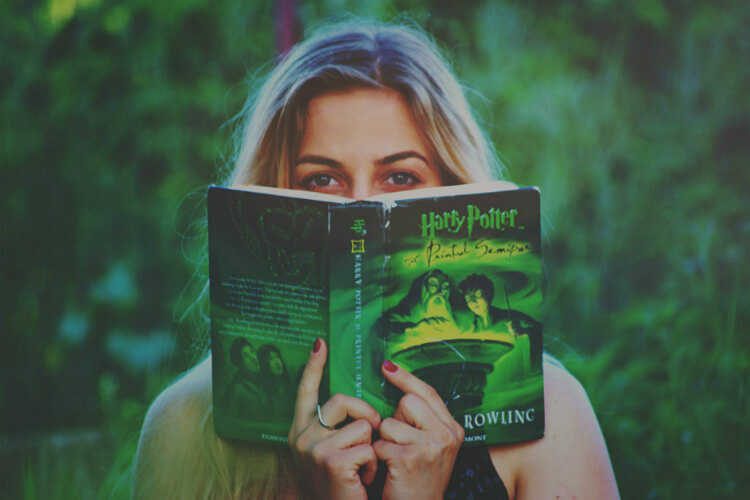 Hogwarts Houses: Go for Slytherin if you want to get a date on the online dating service!
According to a study by the online dating site Zoosk, if you are into Harry Potter universe and mention Slytherin in a message, then your opportunities of getting a reply rise by 67%.
The opposite occurs if you talk about Gryffindor. Singles who support this Hogwarts House statistically are the less lucky ones.
Marvel characters are very popular among Zoosk' singles
If you are into comics and superheroes movies, don't hesitate to talk about your favourite Marvel characters when flirting with someone in an online dating site like Zoosk Canada.
As incredible as it may sound, Daredevil, Wolverine or Deadpool can really help you getting a date!
Now, that "Avengers: Endgame" release day is around the corner, take the chance to make a comment about some superheroes like Thor or Ironman, but don't use the word "Avengers" as you will get fewer replies.
Join Star Wars' Dark Side team! In Zook, users love Darth Vader!
If you are a warsie (love Star Wars), the best trick to get the attention of other singles in Zoosk Canada who also love George Lucas' saga and who also are very excited to watch "Episode IX: The Rise of Skywalker", is to mention Darth Vader in your profile or when exchanging messages.
As surprising as it may seem, the Dark Side wins and you are more likely to get a reply than if you mention other characters or talk about jedis.
In Best Dating Sites Canada we have created this fun yet informative infographic with the most popular fictional characters, sci-fi movies and TV shows among singles in online dating sites like Zoosk Canada.
Take note! These superheroes and villains can really have a positive effect in your love life!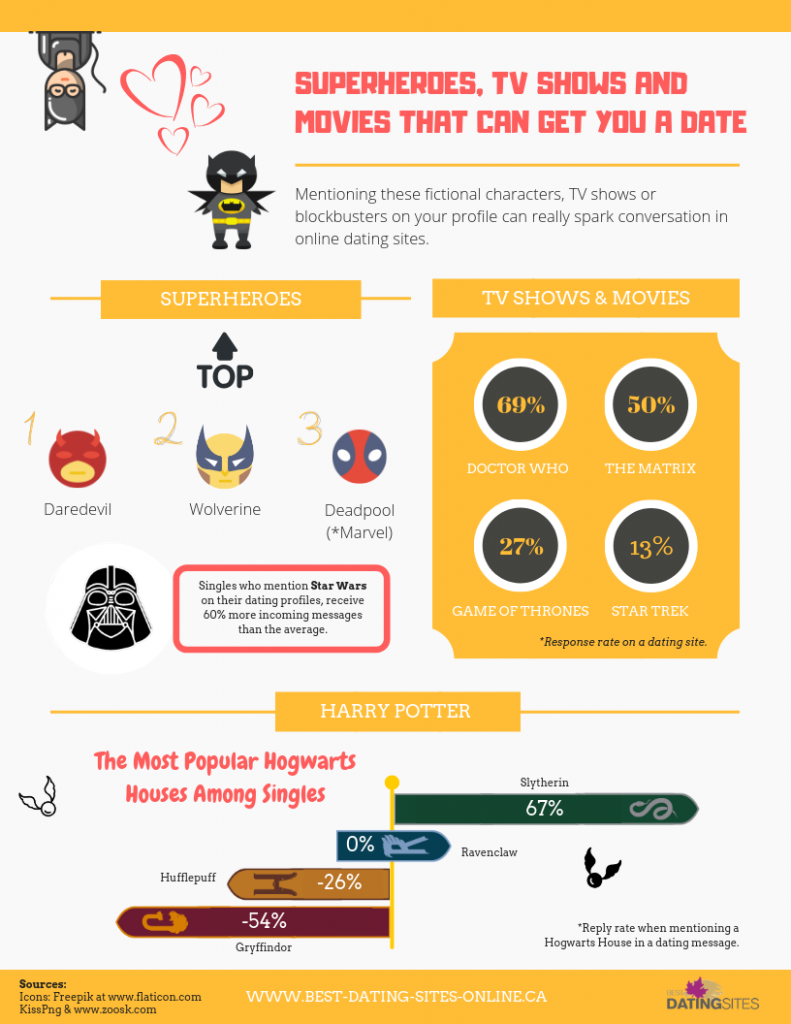 Sources:
Icons made by Roundicons from www.flaticon.com is licensed by CC 3.0 BY
Icons made by Freepik from www.flaticon.com is licensed by CC 3.0 BY
Icons made by Smashicons from www.flaticon.com is licensed by CC 3.0 BY
Icons made by Freepik from www.flaticon.com is licensed by CC 3.0 BY
Icons made by Smashicons from www.flaticon.com is licensed by CC 3.0 BY
Icons made by Smashicons from www.flaticon.com is licensed by CC 3.0 BY
Icons made by Those Icons from www.flaticon.com is licensed by CC 3.0 BY
Icons made by Those Icons from www.flaticon.com is licensed by CC 3.0 BY