Blind dating in Toronto: Meet people in your area!
Last Update : April 5, 2019 by Thaïs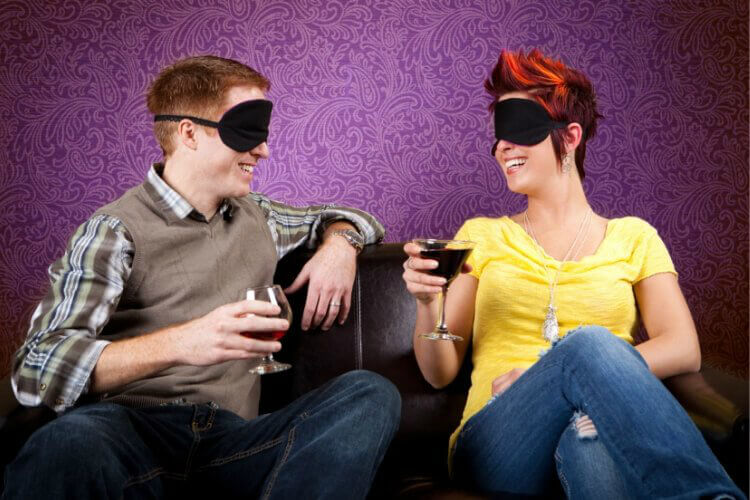 It was an instant crush! How many times have you heard love stories where two strangers fall in love at a coffee shop just a few minutes after seeing each other for the first time?
Love at first sight exists, although not everyone is ready to experience it.
Here's where matchmakers come into play.
On an average day, there are hundreds of singles in Toronto using dating sites to meet people in their area.
Others prefer to put themselves in the hands of dating experts and reputable matchmaking agencies specializing in organizing blind dates.
Blind dates: Finding love in the 21st Century
Singles in Toronto love going on blind dates, but what can you really expect from this kind of meetings?
Romance and loads of mystery. It's not a regular encounter where you know random bits and bobs from the person you are about to date.
In fact, it's the opposite. It's a date, usually arranged by a third person or matchmaker, where you don't have any kind of information about your partner.
You simply show up at a venue booked by the matchmaker, you are introduced to each other and let the game of love begin!
Speed dating, an event where people looking for a potential partner can enjoy several blind dates in one evening, is also a very popular option among singles men and women from Toronto.
The purpose is simple: you can meet plenty of interesting singles from your area at once.
The Toronto dating scene is pretty intense and competitive, and, at the same time, enjoyable and very diverse.
You can find plenty of weekly events for singles who look for a potential partner.
Popular dating sites like Zoosk or Match.com also host speed dating and regular blind dating events as well as activities and parties to help singles meet people in their area and find their perfect match.
The goal is to get to know several singles by going on a few short dates over the course of an evening.
You are given a few minutes to talk and discover if the person sitting in front of you meets your romantic expectations.
The process is repeated with different candidates.
At the end of the session, you can rate your blind dates.
If you are attracted to someone and that person likes you back, then organizers give you the option to have a second date. They share you contact information with your match and vice versa!
Being single in Toronto: Can you really meet people thanks to blind dating?
Toronto is a dating paradise for singles!
If you want to socialize, mingle and flirt with daters from all over the city, there's nothing as fun, entertaining and secure than Match' or Zoosk's events.
Other super friendly alternative dating events in Toronto can be found on MeetUp or EventBrite.
Searching for a unique blind date in a fancy restaurant? A professional matchmaker like SingleInTheCity.ca or SpeedTorontoDating.com can be of a great help.
The only thing you need to care about is to select an event and get the tickets. Then, the matchmaker finds you the perfect partner and sets up your first encounter in a very romantic and cosy venue, so you can focus on what really matters: getting to know the person in front of you!
What's interesting about these services is that they are unconventional and more sophisticated than traditional blind dates.
Blind dates: Can you really find love?
Cupid is always hovering. He can strike you with his arrow anytime and anywhere, even during a first date.
Anything can happen on a blind date if you leave your options open and adopt a positive attitude.
You need to kiss a lot of frogs before you find your Prince Charming. A blind date can be the perfect solution!
You can learn a lot from every experience and even make some new friends!
If your goal is to meet people in your area in a very fun, relaxed and mysterious way, don't miss the chance to discover what blind dating in Toronto has to offer.
Get ready to find your perfect match!