Can your dog help you score a date? eHarmony says, "yes"!
Last Update : March 29, 2019 by Thaïs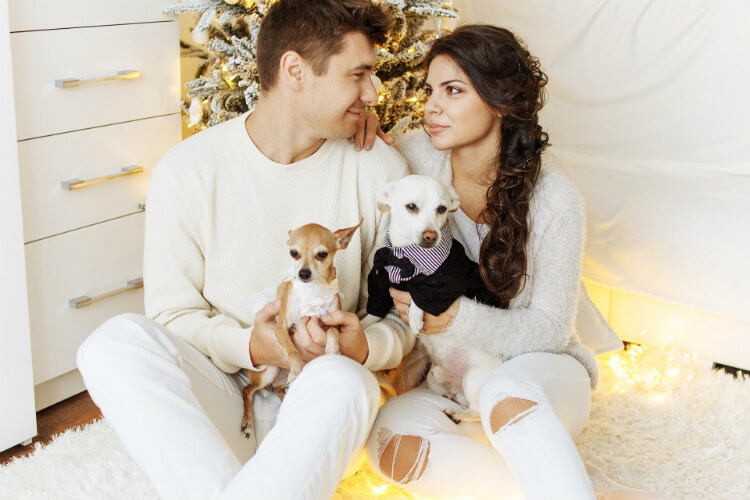 Dogs are man's best friend!
Pets are loyal and incredibly affectionate. They can also become your best ally in dating.
In fact, nowadays, many pet owners find love thanks to their little fluffy friends.
Some singles meet people when walking their dogs to their nearest park, others while attending an event for pet owners and others while using social networks and dating apps for pet lovers.
Having a pet increases your chances of finding love according to eHarmony
Pet owners are irresistible!
A recent study published by the popular dating site eDarling, the European version of eHarmony, shows how important it is having a pet to find a potential partner.
Six in every 10 singles in eHarmony believe that pet owners are more attractive than people who don't have any animals in their life.
The reason is simple: people taking care of a pet, like a dog or a cat, are more likely to be more affectionate, mature, attentive and sensitive.
Having pets takes a lot of responsibility. It's a clear sign that the person really cares about others.
This is an essential trait for many singles who look for a potential partner.
In addition to increasing your sex appeal, having a dog or any other domestic animal can also multiply your chances of meeting new people online and offline.
According to eHarmony's research, 77% of singles think it's easier to meet other singles if you are a pet lover.
Sharing interests or a lifestyle is very important if your goal is to get a date and find love online.
Similarly, saying you love animals can really ease your search for a potential partner in eHarmony.
Get a date thanks to your dog!
Which domestic animals are more popular among singles?
Some pets can help you score a date, and others become jealous when you pay more attention to your date than to them.
Dogs are the preferred choice! At least, by eHarmony users.
Puppies make their owners more attractive, according to the study by the popular dating site.
The second position belongs to cats.
What pets are the least favourite choice by singles?
If you own a snake, think twice before revealing that unusual fact to your date.
It may look exotic and fascinating, but truth it is that they intimate and scare most people off.
Many singles also are afraid of mice and rats, pigs, spiders and other small insects.
So, if you have one of these pets, you've got less chances to score a date in a dating site like eHarmony.
Posing with your pet: The most successful profile photos!
Finding someone special online takes time.
To succeed in your online dating experience, you must take care of every single detail of your profile.
A good profile photo can convince other users to read your full description and send you a private message with the intention to meet you in person.
It's been proven that including a profile photo where you pose with your pet increases your opportunities of scoring a date.
What to avoid when getting a date thanks to your pet?
People hate ultimatums in relationships!
Asking your date/partner to choose between his/her dog (or any other pet) or you, isn't the best idea. In fact, you could be the one losing the game.
According to eHarmony, 80% of participants said that their pets came first, so, better to avoid situations where you don't have any options to win.