Vote now: The Most Romantic City in Canada!
Last Update : February 18, 2019 by Thaïs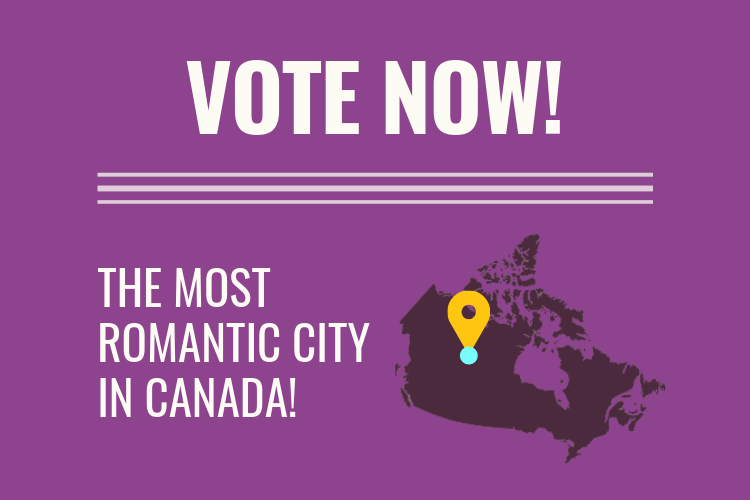 Every single detail counts when you fall in love. From the place you go to have your date to the activity you do to connect with your partner.
Canada offers plenty of opportunities for those singles and couples who want to enjoy a fantastic date night with their partner.
In almost any city in Canada, you can find a weekly event to help singles meet and mingle and lots of activities for two.
Check our Guide to Dating in Canada to find the most original and fun activities to meet people in your city.
Which are the most romantic cities in Canada to enjoy a romantic date?
The colourful Sunday markets in Toronto, the dynamic atmosphere of Ottawa, the breathtaking views of The Seawall in Vancouver, the countless beautiful parks and gardens where you can enjoy a romantic picnic in Calgary…
Canada is a place full of joy and romanticism! And not just for couples!
The biggest Canadian cities also host parties for singles who want to find a potential partner.
You can attend to one of the many speed dating events for singles that cities like Toronto, Vancouver or Calgary celebrate on a weekly basis.
A lot of singles in Canada also use popular events and celebrations like the Montreal Jazz Festival, the Winterlude, the Celebration of Light or The Montreal Fireworks Festival to meet people.
Many of them end up finding a new partner in such events!
What is the most romantic city in Canada? Cast your vote!
You decide! Do you think that Vancouver host the best events for people who are actively dating in Canada or is Toronto the best place to meet singles? Romantic plans for two: Is Calgary better than Ottawa or Québec when it comes to date ideas for couples?
We want to hear your opinion. You've got until the end of February to vote for the most romantic city in Canada.