Senior dating: Useful tips for mature singles
Last Update : August 9, 2018 by Thaïs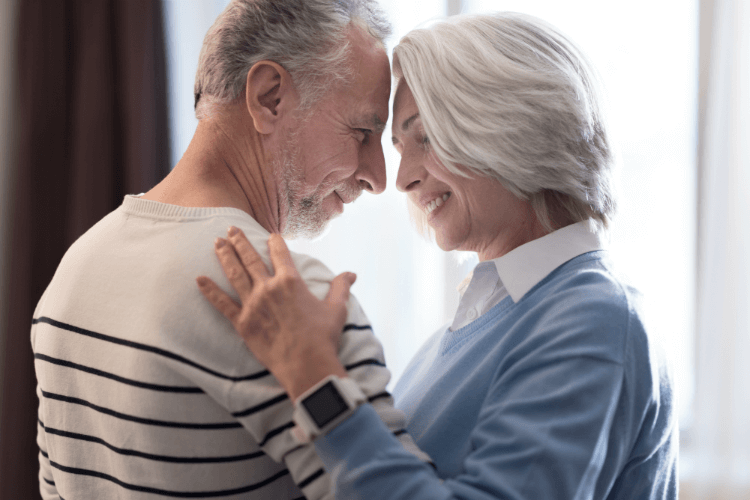 Maturity is the perfect period to enjoy love and life without restrictions.
In recent years there's been a increase in the number of men and women over 50 who went back to the dating market.
Nowadays, you can find plenty of senior dating sites in Canada like SilverSingles that open the doors to those hopeless romantics who want to embrace love as if they were in their teen years.
However, for many of them, how to play the senior dating game is still a mystery.
Here is where we, Best Dating Sites Canada, with the help of SilverSingles' dating experts come to the rescue!
If you are a single men or women over 50 and want to meet other senior singles, keep reading!
What follows is a guide with 5 effective tricks to make your senior dating experience a success. Are you ready to find your perfect match?
Top 5 dating tips to succeed in senior dating
1. Set your romantic goals
Age is the voice of experience. You have learnt plenty of life lessons and have a lot of experience under your belt. You are in a point where you probably know what you want, and which things are not worth a minute of your existence. The same rules should apply to your romantic life.
Give yourself some time to think about what kind of relationship you are looking for and about who you want to be your next companion.
Do you want to meet other senior singles and have fun? Basically, no long-term expectations set.
Or do you see yourself giving love a second chance and getting involved in a new serious relationship?
If you set your goals from the beginning of your new love journey, then it'll be easier to achieve them!
2. Find the best senior dating site for you!
You can meet other senior singles in events, through family and friends or while doing one of your daily activities, but getting a date that leads to something more serious is more difficult if you limit your opportunities to your social circle.
Online senior dating is a great choice as you can meet hundreds of singles over 50 in just a few clicks.
Besides, you can also be selective with your matches. You can filter your search by location, age, interests or even personality type!
If you want to contact other like-minded and base connections on emotional factors and the way your personalities match, then you can give it a try on a matchmaker.
There are lots of senior dating sites on the market, this is why we recommend you to use a comparator like Best Dating Sites Canada to find the senior dating that meets your criteria.
A senior dating sites comparator can help you to save time and money as you don't have to try dozens of services.
You simply need to have a look at the features in the comparative table and read all the reviews to find the proper matchmaking site.
In our personal opinion, SilverSingles is a really good option to start with as it uses a personality test to connect similar senior singles.
Read our SilverSingles review to know more and find real opinions: pros and cons.
The last word is on you, so you can find other interesting alternatives in our ranking as well!
3. Don't miss any opportunity when meeting other senior singles online!
The purpose of a senior dating site is to help singles over 50 find love, so leave indecisions behind, and chat, meet, and mingle!
There was probably a time in your life where you were more restrained when approaching other singles.
Keep in mind that all the people who sign up in a senior dating sites want the same as you: to find the perfect match!
Therefore, playing the hard-to-get or being shy when chatting with other users will reduce your opportunities of meeting someone interesting.
Use all the tools at your disposal and get to know those users who catch your attention.
If there is a positive connection, don't think twice and ask for a first date whenever the opportunity arises!
In the end, love stories are written by those who take the risk to try it!
4. Make the magic happen: Plan the perfect first date!
A first date can lead to a new romance or to disaster, so the best you can do is to plan an encounter that will make your match to crave for another evening with you!
A great first date is the one where both parts have fun, get to know each other, and have the chance to see if there is real chemistry.
Go for the unconventional! Why to go on a cafe on your first date when you can do something more exciting you find more about your match?
Let's say: a salsa lesson, a cooking class, a bike ride, a tour through the most romantic spots in your city? In our dating blog you can find plenty of adventurous first-date ideas that will blow your match away!
5. Keep it real! Don't play it fast, but neither the hard-to-get!
Patience is a virtue, but sometimes, when it comes to the subject of love, to succeed you would need to take the lead. Don't wait for miracles to happen!
Keeping the timing right is crucial! If you see that there is chemistry with someone in particular, don't hesitate to ask out on more dates to see where the story can lead.
This doesn't mean to ask for commitment at the first chance, but your time is valuable, so make sure to keep the boat on the right direction and sailing at the right speed.
What do you have to lose? Love is out there to be enjoyed, so embrace it!