Dating myth or reality? – People rely on friends for dating and relationship advice
Last Update : April 18, 2017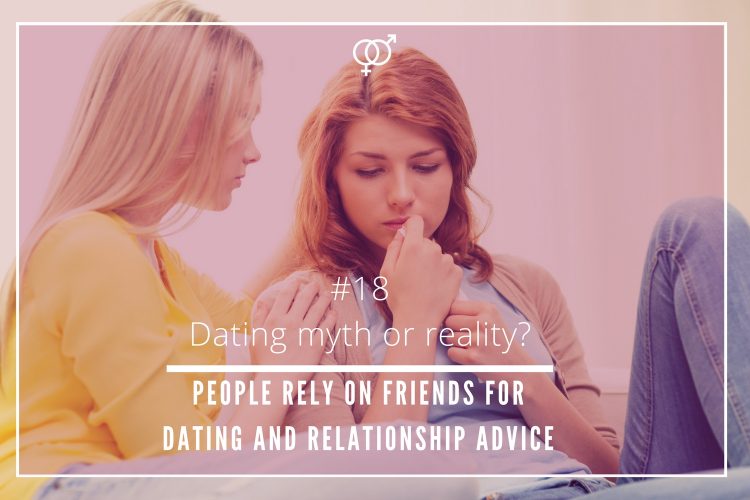 In the dating universe, you can find plenty of relationship gurus and experts that help lonely hearts to find love by providing some dating advice and guidance.
Modern singles can also discover some dating and flirting tips -from how to succeed on a first date to how to make your relationship stronger- in lifestyle magazines and blogs.
Information about dating and modern relationships is more accessible than years ago, but do people use the Internet or ask experts for dating guidance or prefer to rely on their family and friends to do so?
The dating hypothesis: People rely on friends when seeking advice on dating and relationships
There are many useful resources for people who want to initiate a serious relationship, but in spite they can learn a few seduction tricks from books about romance, dating blogs and relationship coaches, it seems that singles are likely to rely on their friends when seeking advice on dating and relationships.
Men's perspective
A recent study conducted by the dating site Match.com, where 5,500 singles from different ages, and walks of life were asked about their dating habits, shows that nearly 50% of male respondents tend to ask their guy friends for advice about seducing women.
Their female friends and co-workers seem to be great love counsellors as well because 34% and 20% of male participants confessed that they rely on them when they need help with their love life.
Siblings and ex partners are the last option. Only a 19% and 13% of single men respectively ask them for romantic advice.
Women's perspective
There are some minimal differences between single men and women when looking for dating guidance.
Single women also prefer to seek their friends and co-workers' advice when it comes romance. The difference is that more women consult their female friends (66% of them) and work mates (30%) about their love life.
Another interesting finding is that single women also turn to family members when need advice about a potential date or their partners.
A considerable 32% of single females usually talk with their siblings about relationships, while 27% believe that their parents can be great dating advisers.
Dating myth or reality?
Times have changed, and nowadays more people go online to search for love, but also to seek advice on how to take the most of their single status, and to find the secrets of a blossoming relationship.
However, as recent studies show, singles feel more comfortable asking someone they know for ages and with whom they are familiar with, like colleagues or work mates, when they need advice about their dating life and relationships rather than a dating expert or a blogger.
Therefore, the idea that people tend to count on friends for relationship advice is a dating reality!
*Photo by Syda Productions | ShutterStock.